LOOK AND FEEL GREAT

My name is Reenah Anthony and I have been training in Muay Thai Kickboxing for 8 years. In the last year I have started to compete in the ring full contact. I train under Zina and Daniel Docto at the Concord Kickboxing Club (CKC) in Pacheco, Ca. I have always gone up and down with my weight until I started on what the Docto's created and call "The Plan". I have lost 20 pounds since January of this year. In my private lessons I will share with you, encourage you and guide you through the plan and your personal weight loss.
TRAIN TO COMPETE
(back to top)
Now that I am a Muay Thai fighter I want to share my training experiences with other women.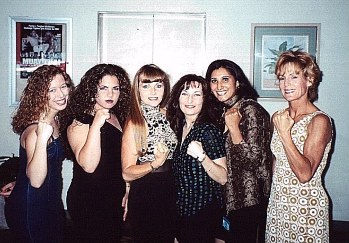 Currently there are not a lot of female fighters in the Muay Thai world. For every fight that I go to there will be at least 10 fights and if we are lucky there will be one female fight. I would love to increase these numbers. Let me help you become the next Female champion Muay Thai fighter.
Self Defense is the most important weapon that we women need to learn. We need to know how to handle ourselves on the streets. You can carry all the weapons you want, but until you have the confidence to protect yourself then they are useless. CKC offers many classes to learn these self defense techniques. In your private lesson with me you will strengthen your body and your mind. I will not only help you develop your muscles, but your confidence to handle yourself in any situation. This confidence is priceless and your best defense in any situation.
HOW DO I START? (back to top)
Make the decision to make a change in your life. Wheather that change is to lose weight, become a fighter or to gain confidence and the power to protect yourself.
I only do train women, but Daniel Docto is who I would refer all of you men to.
COST
$50.00 per hour
Special Lesson Pack (5 sessions) ...... $200.00 Get a Free Lesson
411 North Buchanan Circle # 9, Pacheco CA